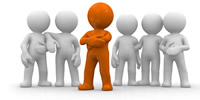 The Center for Subsurface Imaging and Fluid Modeling (CSIM) is a research and educational program based in the University's Division of
Physical Science and Engineering
. CSIM started in 2009 and our staff consists of 4 postdoctoral fellows, 2 research scientists, 3 professors, and 6 Ph.D. students as of Feburary 2011. It is under the direction of Prof.
Gerard T. Schuster
and Prof.
Shuyu Sun
.
Our Mission
The mission of us is to develop innovative and integrated computational methods in seismic imaging and subsurface fluid flow modeling.

Our Advantages
More than $1,500,000/year in KAUST research funds, tightly coupled visualization + supercomputer resources + reservoir fluid modeling + seismic imaging.